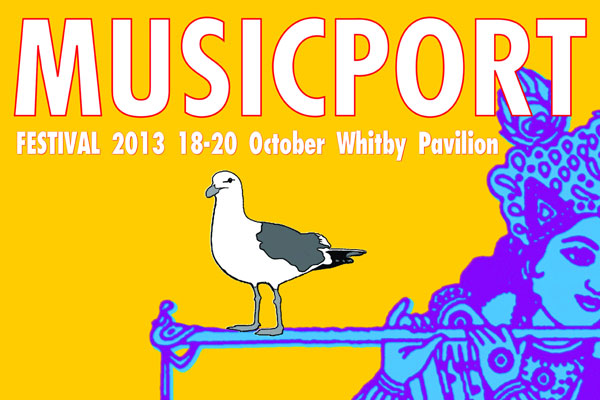 News comes from the award winning Musicport Festival of some of the wonderful and Mercury nominated artists that have been added to their line up.
Musicport Festival 2014
17th – 19th October – Whitby Pavilion Complex, Whitby, North Yorkshire.
www.musicportfestival.com
Tel 01947 603475
Plans are well under way for this years Musicport Festival – voted Indoor Festival of the Year 2013 in the recently announced Fatea Awards.
With several headline acts still waiting to be confirmed there is already an impressive line-up taking shape – with full info below.
Artists confirmed so far include:
Catrin Finch & Sekou Keita (Wales/Senegal)- stunning meeting of top Welsh harp player & master Senegalese kora player.
The Crazy World of Arthur Brown – homecoming of the God Of Hellfire & Whitby's most famous son.
AMINE & HAMZA (Tunisia) Celebrated worldwide as geniuses on their oriental instruments the oud and the kanun.
Robyn Hitchcock from his days in The Soft Boys to his current cult status , one of the UK's great  musical heroes
Jesse Bannister's Play Out featuring Zoe Rahman – new quartet led by Indo- jazz saxophonist Jesse, MOBO Award-winning pianist Zoe Rahman & Mercury Prize-nominated drummer Seb Rochford alongside Corrine Bailey Rae bassist Kenny Higgins.
John Smith – guitar genius from Devon who is gaining mainstream recognition with his latest album Great Lakes
Kathryn Williams Mercury-nominated and with the voice of an angel Kathryn is a national treasure.
PeruNIKA TRIO (Bulgaria)  polyphonic harmonies that will astonish in their complexity and beauty.
LUCY WARD BAND –  award winning  & cutting edge folk singer from Derby with her fine band
NEW ROPE STRING BAND Once seen, never forgotten: an indefinable confusion of superb musicianship and side-splitting comic genius
TANTZ – remarkable & energetic young klezmer band from Leeds
TASHI LHUNPO MONKS (Tibet) – keeping alive the wonderful and impressive rituals of Tibetan culture
MY SWEET PATOOTIE (Canada) – dazzling musicianship and entertaining stage show
ATTILA THE STOCKBROKER – Sharp-tongued, high energy, social surrealist rebel poet and songwriter.
O'HOOLEY & TIDOW powerful, thought provoking and deeply moving songs from acclaimed Yorkshire duo
THE BEVVY SISTERS (Scotland)  Mixing equal measures of sweetness and sass, grit and glamour, heartbreak and hilarity – cut with a dash of potent Scottish spirit
VÄRLDENS BAND (SWEDEN) – exciting young multicultural band from Stockholm on first UK tour