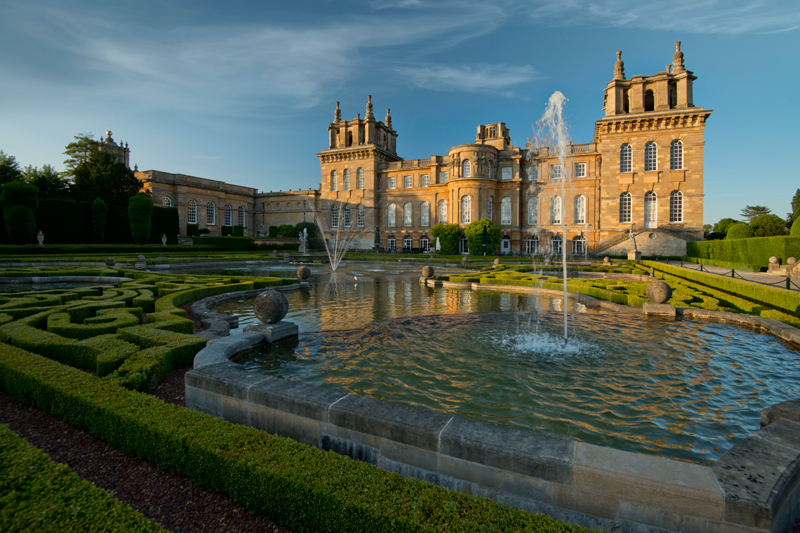 2020 at Blenheim Palace sees new exhibitions, an exciting events calendar, historic restoration and conservation projects and new tours taking place at the UNESCO World Heritage Site in Woodstock, Oxfordshire.
Groups can discover a host of new and fascinating specialist talks throughout the year as well as Blenheim Palace's 300 years of history and heritage in free audio tours available in nine languages in the self-guided State Rooms Tour.
Exhibitions
New for 2020 Blenheim Palace is curating a temporary exhibition, Let's Misbehave – Blenheim Palace in the 1920s, from 15 February – 13 April 2020.
Visitors will be able to discover an in-depth portrayal of this fascinating decade in the history of the British aristocracy.
The 9th Duke of Marlborough and his second wife, American intellectual, Gladys Deacon, were lavish hosts at the baroque Palace. Their numerous house parties were attended by family and friends as diverse as Lytton Strachey and Sir Winston Churchill.
The Duke and Duchess had an extensive and varied circle of friends including members of the Bloomsbury Set and leading politicians and artists of the day.
The exhibition will showcase their lavish lifestyle displayed in the Palace's State Rooms.
Featuring works by artists and sculptors as eclectic as Boldini, Cecil Beaton, Jacob Epstein and Duncan Grant among others, visitors will be able to see how the upper classes amused themselves on these occasions, as well as what they ate, how they dressed and what they discussed.
Seasonal Tours
Visitors will be able to explore behind the scenes, hidden aspects and the private side of the Palace in 2020.
The Restoration & Conservation tour will be exclusively available from 10th January – 9th February, running twice per day excluding Sundays. The tours will tie in to the annual deep clean of Blenheim Palace is on full to visitors during this period. The tour will give an in-depth look into what is being done in each of the State Rooms.
The tours will look at two very important aspects of running a 300-year-old Palace, including restoring a piece of art, building or tapestry to its original condition, as well as the preservation and repair of the historical and cultural site and its artefacts. The tour will also examine the theme of renovation, exploring how Blenheim Palace must also modernise and remain as a comfortable family home and appealing to visitors.
The Private Apartment Tours return to Blenheim Palace in the spring. In a series of tours which explore the East Side of the Palace, visitors can discover the opulence of the rooms in which the Marlboroughs have lived for generations and how the servant's quarters were ran at Blenheim Palace.
Take the Upstairs Tour, where the family's illustrious guests have stayed over the past 300 years. Previous guests have included Queen Mary, King Edward VIII and Wallis Simpson, as well as Cecil Beaton and Yves Saint Laurent. Visitors will be able to discover family rooms such as the Blandford Bedroom, the Sunderland Dressing Room and Bachelors' Row, which includes secret corridors, interlinking doors and spiral staircases.
Head Downstairs and learn about the life of household staff. Visitors can wander through the network of corridors, see the iconic bell system as well as some areas which are still in use by Palace staff today, including the kitchen. Along the way, hear about the gossip and perks of the job from the staff's point of view.
Events
Blenheim Palace continue their exciting events calendar in 2020. Spring begins with the Easter Carnival & Family Entertainment, April 10 – 13. Fun for all the family Easter weekend is packed full of outdoor activities, vintage fairground rides and dressing up.
A Jousting Tournament featuring the Knights of Royal England, Falconry and Other Attractions will take place on the South Lawn on May 2 – 3. Families will love a thrilling weekend of jousting tournaments, falconry displays, blacksmith demonstrations, dragons, a barber surgeon and 'Have a go at Archery' on the South Lawn.
The Blenheim Palace Food Festival, Oxfordshire's largest food festival, takes place from May 23 – 25 showcasing the very best of the Cotswolds' food and drink.
Other springtime events include 'Nocturne Live' Concerts in the Great Court from June 18 – 21. These popular outdoor concert evenings have seen such performers as Kylie Minogue, Gladys Knight, Tears for Fears and Ms. Lauren Hill.
A firm favourite is the Blenheim Palace Flower Show from June 26 – 28. Attracting more than 24,000 across the weekend the gardening event is a must-visit for enthusiasts and professionals alike. The 2019 show was opened by Channel 4 TV Presenter George Clarke and featured an incredible Floral Carousel.
Christmas at Blenheim Palace, including the much-loved Illuminated Trail through the Formal Gardens and 'Capability' Brown Parkland, the atmospheric Christmas Market in the Great Court and Festive Palace Experience will return with the provisional dates of November 20 – January 1, 2021. This year will be 'Alice in the Palace' a dazzling and beautiful immersive experience leading visitors on a magical trail through the Palace's State Rooms.
Group Specialist Talks
Blenheim's Palace rich history and fascinating aristocratic family provides group visitors the opportunity to book exclusive talks on specialist subjects. New and updated talks include:
Winston Churchill at Blenheim Palace
Military Marlboroughs – John Churchill and pre 20th Century warfare
The Palace at War – WW1 and WW2
Ladies of Blenheim – The Women Who Shaped "Britain's Greatest Palace"
Christmas at Blenheim: Family stories (only available at Christmas)
Life Below Stairs – Private Service at Blenheim Palace
Shaping the Landscape – Henry I to Achille Duchene via Henry Wise and 'Capability' Brown
The Blenheim Collection – Indoors and Outdoors
Conservation and Sustainability – Major works and exciting developments
For overseas group organisers who book ahead, Blenheim Palace has a number of multi-lingual guides available to accompany groups during their visit and provide an enhanced experience in their own language.