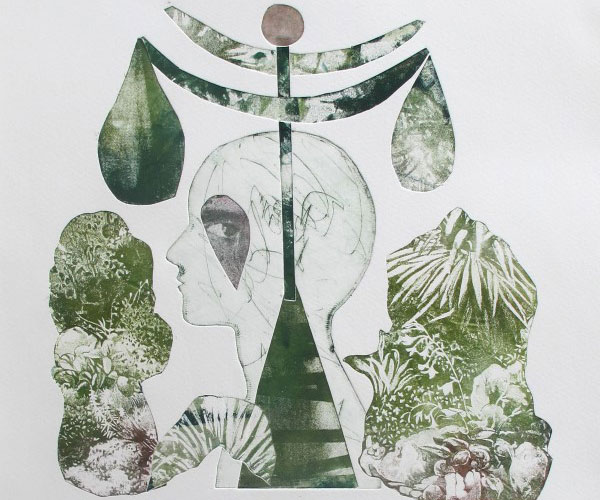 londonprintstudio launches its annual Summer Members show on Thursday 26th June with an exhibition of beautiful prints produced in the studio by established and emerging artists. The exhibition is an opportunity to see the range of prints produced in the studio by artists working in varied styles and with different techniques, from lithographs etchings and woodcuts to screen prints.
londonprintstudio members exhibition
Contemporary fine art prints produced by current londonprintstudio members.
Opening Party: Thursday 26th June 2014 – 6.30pm – 8.30pm
Exhibition runs: Friday 27th June – Saturday 2nd August 2014
The prints were selected by Gill Saunders, Senior Curator of Prints at the Victoria and Albert Museum. The final show was selected from over 80 submissions, many more than submitted last year. John Phillips, Director of londonprintstudio said 'We saw a great deal of high quality work among the submissions, and while we put together a focussed and attractive exhibition, it was sad to see that some excellent prints were not included.'
Among the varied work on show, Margaret Ashman's series 'Lifted' concerns signing and gesture which resonate in us because of their origins as the roots of language. Many artists have created distinctive art practices based around the physical embodiment of language and text. Ashman's art practice is heavily reliant on sign language. Giving her models texts to sign is a way of embedding language in the art work. Her small photo etchings, Lifted I, II and III, arose from a photo shoot in which the model signed the hymn 'Amazing Grace' in BSL. The backgrounds of sky were either photographed by the artist or found images.
By contrast, John Macaulay's screen print 'Two for Breakfast' features a domestic, everyday scene. His screen prints are composed using a series of drawings and photographic reference which are used together to construct the compositions and themes. The familiarity and title is intended to re-create a situation that the viewer will identify with and may even evoke similar situations or events which they have encountered or experienced.
Aga Tamiola, a recent St Martin's graduate, is a multimedia artist working at the intersection of art and science. She works closely with linguists, ethnographers, neuroscientists and clinicians to develop her projects. Her art tries to give a voice to those who struggle to be heard. In 'The Silent Keepers' she focuses on endangered languages. When language transmission is broken we lose a unique knowledge of how a community perceived the world, and indeed how they perceived themselves.
Lynn Hatzius works using snippets from various sources, often unrelated in content, combined and recombined until an interesting composition reveals itself and is fixed. This brings a constant flow of hidden meaning almost as if the images are waiting to be discovered. She allows the printmaking process take charge, relying on spontaneous subconscious decision making to direct the outcome. Her latest explorations use photo litho plates, exposed with found imagery and cut into small parts. The thinness of the aluminium lets her use it like paper, layering several elements.
Catriona Leahy examines time, duration & memory in a personal and social context, she is intrigued by the apparently enduring presence and stability of structures and form – social, physical, geographical and cultural – and memory, a moment in time perpetually moving and in flux. Her photopolymer gravure 'Rendition' reminds us of redundant or vacant spaces calling to mind the brevity of our occupancy of space, and the dependency on our presence to ensure their abiding memory.
The artists showing work in the exhibition are:-
Farina Alam, Jim Anderson, Margaret Ashman, Jacki Biddulph, Alice Valentina Biga, Emily Bornoff, Alex Brady, Colin Burns, Michelle Dow, Lauren Fynn, Clare Grossman, Lynn Hatzius, Adam Herbert, Jennifer Jokhoo, Marianne Keating, Catriona Leahy, John Macaulay, Tim Major, Janet Milner, Tom Moore, Ralph Overill, Sumi Perera, John Phillips, Rennie Pilgrem, Nicola Arkell Reed, David Studwell, Chisato Tamabayashi, Aga Tamiola, Katherine Van Uytrecht, and Claire Weinstock.
Admission Free
Tuesday – Saturday, 10.30am – 5.30pm
Image: Lynn Hatzius, Balance I (Green Portrait Series, 2014)