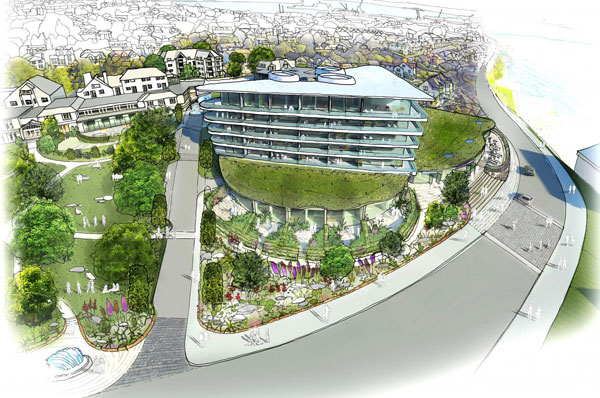 The detailed plans for the new St Michaels Spa & Wellness Resort have now been submitted as a full planning application.
Last night (1st September) Falmouth Councillors on the Town Council  Planning Committee gave unanimous support for the scheme and recommended it for approval. The town is excited about one of the largest investments in new tourism infrastructure that the County has seen in over a decade. It will feature some spectacular iconic architecture which alludes to an ocean-going liner and reflects Falmouth's "Spirit of the Sea" marketing strategy.
The whole scheme will cost over £30 million and create over 90 new jobs, in addition to protecting an existing 115 full time equivalent jobs at St Michaels and Falmouth Beach at present.
The final plans were submitted after an extensive local consultation process involving local residents, Councillors, The Civic Society, Falmouth & Penryn Conservation society, Planning Officers etc. Proprietor, Nigel Carpenter, commented: "The reaction has been overwhelmingly positive which is fantastic. Over 90% of consultees have been extremely supportive, which is tremendous, given that it is a bold, exciting scheme. I think this reaction re-affirms what a go-ahead, forward looking and creative community Falmouth is".
The main components of the original plan remain intact but there have been a number of improvements. The lower part of the main "Liner" building now has an undulating grass roof which softens the scheme and picks up the lawns and landscaping at St Michaels. The boat/liner metaphor has been strengthened and the public realm landscape substantially improved.
The vision for the whole resort is anchored around a major investment in new spa, health and wellness facilities across the site, and a major upgrading of the facilities. The accommodation on site reflects a more contemporary mix of hotel bedrooms, suites, apartments and 4 eco lodges.
There is an existing consent on the site for the re-building of the former Falmouth Beach Hotel but this was dubbed "a lost opportunity" by planners and the Falmouth Civic Society. It is also known that developers of retirement apartments and a budget hotel group are very interested in the site. Mr Carpenter conceded that those two routes are likely to be more profitable to develop but that they would be "a tragic waste of one of Falmouth's best locations"
The current planning submission still includes a new "local shop" and a prestigious restaurant/ bar on the seafront.
The scheme goes before Falmouth Councillors this Monday but the result of the application will not be known until early November, when Cornwall Councillors will make a final decision. Nigel Carpenter hopes the support from Falmouth will help win the day: "This scheme will help strengthen Falmouth's growing position as one of the most vibrant, attractive and creative places to visit in Cornwall. It will create a lot of new jobs and economic development throughout the town. It would be an unexpected and disappointing move to turn it down, but I know that the decision will ultimately be taken in Truro so I am asking for everyone in Falmouth to show their support"