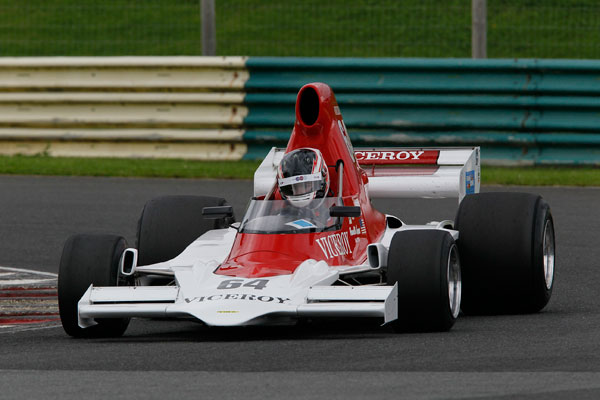 The unmistakeable roar of Formula 5000 will resonate around Thruxton next weekend (19-20 April), as a marauding pack of 5.0-litre, V8 monsters vie for glory in the Derek Bell Trophy races at the eagerly-anticipated Easter Revival.
 Feast of formidable Formula 5000 machinery a highlight of Thruxton Easter Revival
 Formula 5000 and Formula 2 drivers face-off in Derek Bell Trophy races
 Super Touring and Classic Formula 3 ensure plenty of variety at popular historic event
Back in its 1970s heyday, Formula 5000 attracted star names from the heady heights of Formula 1, with Jody Scheckter clinching the US-based SCCA Formula 5000 crown in 1973 and Patrick Tambay, Alan Jones and Jacky Ickx sharing the Can-Am laurels between them from 1977 to 1980 in Formula 5000 machinery.
Peter Gethin actually launched his F1 career off the back of consecutive European F5000 Championship titles in 1969 and 1970, later adding the 1974 Tasman Series in Australia and New Zealand to his trophy cabinet.
Gethin also won in Formula 5000 at Thruxton in 1970. The spectacular single-seaters have not been unleashed around the ultra-fast Hampshire circuit in almost a decade, and it is close to 40 years since the track hosted its final dedicated Formula 5000 race – but now, they are back!
One of the undisputed highlights of the second, Historic Sports Car Club-organised Easter Revival will be the two Derek Bell Trophy races, which will see a plethora of powerful Formula 5000 behemoths from the 1960s and 1970s take on a pack of lighter and nimbler Formula 2 rivals.
It is approaching half-a-century since the very first Formula 2 event was held at Thruxton in 1968, won by Jochen Rindt in a Brabham BT23C. The Austrian – Formula 1's only posthumous world champion – made it a hat-trick with triumphs in 1969 and 1970, in a Lotus 59 and Lotus 69 respectively. Following his death, the British Automobile Racing Club (BARC) commissioned the Jochen Rindt Trophy, which will again be awarded next weekend.
Formula 5000 entries at the Easter Revival will include Paul Campfield and reigning FIA Masters Historic Formula One Champion Greg Thornton in Chevron B24s – the latter driving an ex-Peter Gethin car – as well as husband-and-wife Frank and Judy Lyons in a Gurney Eagle FA74 and Lola T332 respectively and Ian Ashley in a Lola T300. The former F1 racer was a Formula 5000 race-winner at Thruxton in 1974 and 1975.
Other notable entries in the Derek Bell Trophy races include erstwhile Formula Atlantic competitor James King, who will be flying in from the United States to campaign a March 712 at the Easter Revival. The international theme continues with Martin Bullock, who will provide the event with an antipodean presence in a Chevron B17.
Classic Formula 3 will also play a key part in the Easter Revival, with the impressive entry list including an ex-Derek Warwick Chevron B38, ex-Martin Brundle Ralt RT3, period racer Richard Trott in a Chevron B43 and an ex-Tony Brise Modus in the hands of Mark Hulme.
The Guards Trophy Sports Racing Car category is headlined by McLaren test-driver Chris Goodwin in a McLaren M1B, with Marcus Mussa piloting a similar car. Amongst the two-litre brigade, a gaggle of Chevron B8s includes an entry for circuit manager Pat Blakeney, who is sharing the driving seat Stephen Jones.
The well-subscribed Guards Trophy Championship, meanwhile, unites a wide variety of marques from Jaguar to Sunbeam, Lotus, Chevrolet, Triumph, TVR, Marcos, Jensen, MGB and Turner.
The opening rounds of the new HSCC Super Touring Car Championship offer a mouth-watering prospect, with 1990s BTCC heroes John Cleland and Patrick Watts returning to the wheel of their former steeds. Father-and-son Graeme and James Dodd will be out in a Nissan Primera and Honda Accord respectively, whilst a Williams Renault Laguna and flame-spitting Sierra RS500 add to the tantalising line-up.
Historic Touring Cars will similarly be out in force, with a quartet of Ford Mustangs celebrating the iconic Pony car's 50th birthday in style and preparing to do battle with a Jaguar MKI, Jaguar MkII, Ford Galaxie, Ford Anglia, Lotus Cortinas and Hillman Imps. With the '70s Road Sports Championship, Historic Formula Junior, Historic Formula Ford and Classic Clubmans embellishing the appeal, an action-packed weekend is certainly in-store.
"The sight and sound of Formula 5000 cars thundering around Thruxton is sure to bring back many a memory," said Thruxton Group Managing Director Bill Coombs. "Watching them pitch their power against the agility of the Formula 2 machinery in the Derek Bell Trophy races will provide a thrilling spectacle, meaning fans are in for a real treat.
"Allied to the many other classes that will be running over the weekend, from the resurgence of Super Touring to Historic Formula Junior, the second Thruxton Easter Revival looks sure to be an even greater success than the first and a thoroughly enjoyable day out for motorsport fans young and old."