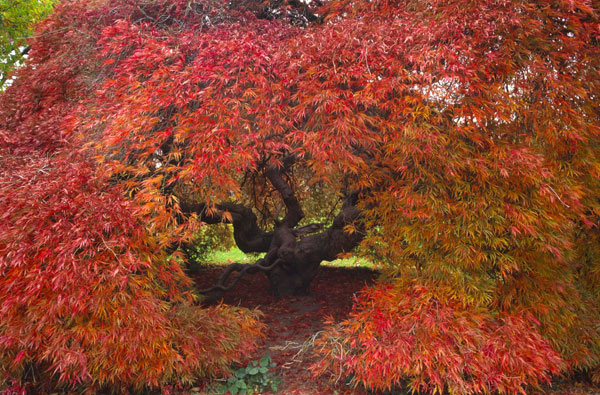 Welsh Rarebits member, Gliffaes Hotel near Crickhowell, is sharing the delights of its magnificent arboretum in a series of organised 'Tree Walks,' showing this wonderful arboretum in a blaze of autumn colour.
Organised Tree Walks
The Gliffaes tree collection includes ancient oaks, reminders that the Gliffaes location has been inhabited for 600 years; a magnificently gnarled Japanese Maple (renowned for its fabulous autumn colour), a Hankerchief Tree, so-called because the pure-white bracts it produces in spring look like waving hankerchiefs; and spectacular Giant and Coastal Redwoods.  The Coastal Redwood is renowened as the world's tallest tree, and the the specimens at Gliffaes stand at 48m, with a girth of 7.36m.
Other delights include the Tulip tree, which in mid-summer has a profusions of orange tulip -like flowers; the Paper Bark Maple with its  distinctive peeling bark, and the Paper-Bark Birch – another tree with peeling bark,  which was used by native Americans to build their canoes due to its impervious nature.
Other trees include a lovely lime planted to mark the arrival of James and Susie Suter to run the hotel,  a huge Cedar of Lebanon, a baby version of which has been planted nearby to eventually take its place.
Recently planted native species include holly, hazel, spindle, crab apple hawthorn and guelder rose.
"We are very proud of our tree collection, and work hard to maintain and improve it," says James Suter. "We very much see ourselves as custodians of the arboretum, and see it as a gift for future generations to enjoy as much as we have."
"Our trees have proved to be a major point of interest with our guests, which is why we have introduced  guided walks throughout the year, showing the collection in different seasons. However, we have also printed a leaflet, available at reception, so that people can enjoy the tree collection outside the guided walk times."
*The Gliffaes Hotel guided tree walks are followed by lunch and cost £22.  Walks start at 11am.   Please call 01874 730 371 to book a place on the following dates.
Saturday, October 18
Tuesday, October 21
Saturday, October 25
Wednesday, October 29