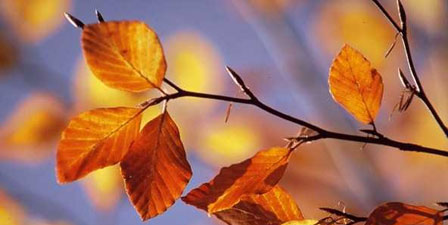 Nature's autumn finale is coming early according to woodland experts in The National Forest.  This year's exceptionally dry weather means that many leaves are already turning red and gold with their final dazzling display of colour, so the National Forest Company is urging people to get out into the woodlands and enjoy the autumn colours.
Head of Forestry, Matt Brocklehurst, said: 'Trees are very adaptable but they have had quite a stressful year.  Although we have had rain, it has not been enough to counteract the very dry spring.  Many trees are beginning to prepare for winter early, as there is not enough moisture in the ground for them to sustain a full canopy of leaves.
'Plants grow by taking in water and nutrients from the ground and carbon dioxide from the air. They use sunlight through photosynthesis to transform these into oxygen and glucose. When long periods of dry and warm weather persist, this can interrupt the process leading to the early loss of leaves from trees.
'Some species, such as lime and silver birch, are turning autumnal exceptionally early, but the fact that some species are shedding some of their leaves early is a perfectly natural response and part of their annual cycle.  If we are lucky, this spectacular season will be longer this year as different species respond slightly differently.'
Autumn is truly a spectacular time to walk in The National Forest.  As well as enjoying the stunning colours and crisp fresh air, you can also find hazelnuts, sloes and other Forest fruits just dripping from the trees.
Foremark Reservoir is lovely in autumn, with its boardwalks and waterside path that leads to Carvers Rocks Nature Reserve.  And the parkland landscape of nearby Calke Abbey, with its resident deer, misty lakes and ancient oaks, provides an atmospheric setting for an autumn stroll.  This could be combined with a visit into the fascinating historic house (open until 30 October) or with a meander along a scenic ridge to Staunton Harold Church and the Ferrers Centre for Arts and Crafts.
The Outwoods and Beacon Hill within the ancient Forest of Charnwood provide some of the best displays of autumn colours and are criss-crossed with footpaths and cycleways to explore.
Willesley Wood, near Ashby de la Zouch, is always rich in vibrantly coloured Field Maple and Rowan during autumn.  Willesley, owned and managed by the Woodland Trust, was the first woodland planted as part of The National Forest and is maturing to become a well-established haven for wildlife.
The National Forest Company has produced a selection of recommended walks, ranging from three to 22 miles, which can be downloaded from the website www.visitnationalforest.co.uk/walks
Autumn is also 'Seed Gathering Season'.  The National Forest runs a 'Seed to Tree' scheme that encourages local residents and visitors to collect acorns and other native tree seeds and grow them on as small seedlings to be eventually planted in the growing National Forest.  For a Seed Gathering Pack contact the National Forest Company on (01283) 551211.  After two years the seed-gatherers are invited to a community tree planting event to plant their little trees in a young woodland.