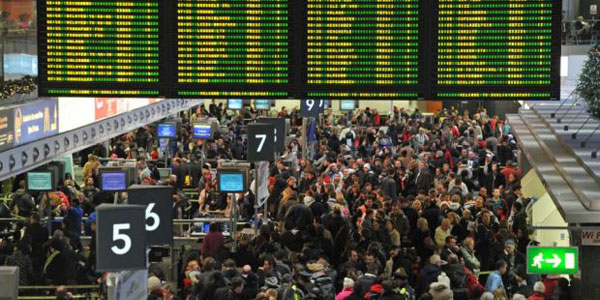 Passenger numbers at Dublin Airport increased by 6% to 20.2 million last year, as an extra 1.1 million people used the airport.
The significant growth in passenger numbers was led by a record-breaking performance on transatlantic traffic, which saw a 13% increase during 2013.
As a result of the strong growth in passenger numbers, Dublin Airport Authority (DAA) is paying a €5.6 million rebate in airport charges to a total of 40 airlines that increased their business at Dublin Airport during 2013.
"Dublin Airport had an excellent performance last year," said Dublin Airport Managing Director, Vincent Harrison. "Passenger numbers increased across all areas of the business and Dublin Airport's growth outperformed the European average in every month of 2013."
Mr Harrison said the performance of the transatlantic market was particularly pleasing last year. "We saw a record 1.9 million people flying between Dublin and North America last year, as our airline customers added extra capacity to existing routes and we also saw the start of a new daily American Airlines service to JFK in New York."
Long-haul traffic to the Middle East grew by just over 13% last year and passenger numbers travelling to and from Dublin Airport's largest markets of Europe and the UK also increased. Transfer traffic saw strong growth during 2013, as transfer passengers increased by 36% to almost 550,000.
Last year was Dublin Airport's third successive year of growth and the airport's busiest year since 2009. This year is expected to bring further growth, according to Mr Harrison. "We're very positive about 2014, as we already have 16 new services scheduled and significant expansions of some existing services have also been announced."
Aer Lingus is launching services to San Francisco, Toronto, Hanover and Pula, Ryanair will have nine new services including Lisbon, Prague, Bucharest, Basel, Marrakech, and Almeria, Canadian airline WestJet will have a new route from Dublin to St John's, Newfoundland, and Air Canada rouge will operate its new Dublin-Toronto service.
Under its Growth Incentive Scheme, which has operated since 2011, DAA pays an airport charges rebate to each airline that increases its passenger numbers at Dublin during the year. Airlines that increased passenger numbers at Dublin Airport last year and are being paid rebates under the scheme include; Aer Arann, Aer Lingus, American Airlines, British Airways, Delta, Lufthansa, Norwegian, Turkish Airlines, Ryanair, SAS, Tarom, and United.
This is the third successive year of Growth Scheme payments at Dublin Airport and during that period, DAA has rebated a total of €8.6 million in airport charges to its airline customers. "This incentive scheme was designed to encourage growth in passenger numbers and we are delighted to have paid a rebate in each of the three years it has operated," Mr Harrison said.
DAA has recently decided to renew the Growth Incentive Scheme for a further three years up to 2016. The new scheme will apply to all scheduled airlines using Dublin Airport, and will operate alongside DAA's existing generous route incentive schemes.
Dublin Airport  – New Services 2014
Destination
Airline
Almeria (Spain)
Bari (Italy)
Basel (Switzerland)
Bucharest (Romania)
Chania (Crete)
Comiso (Sicily)
Hanover (Germany)
Lisbon (Portugal)
Luxembourg (Luxembourg)
Marrakech (Morocco)
Prague (Czech Republic)
Pula (Croatia)
San Francisco (USA)
St Johns (Canada)
Toronto (Canada)
Toronto (Canada)
Ryanair
Ryanair
Ryanair
Ryanair
Ryanair
Ryanair
Aer Lingus
Ryanair
Luxair
Ryanair
Ryanair
Aer Lingus
Aer Lingus
WestJet
Aer Lingus
Air Canada rouge