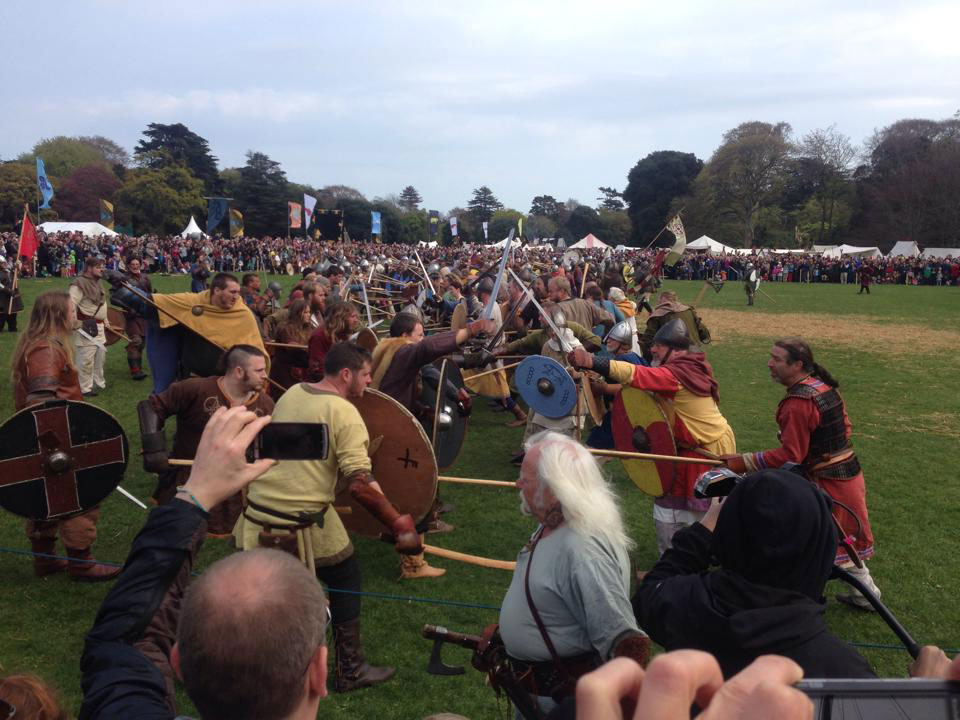 During the recent celebratory commemoration of the Battle of Clontarf of 1014, there were close to 500 Vikings partaking in the celebration. Yes, lots of jolly costumed Vikings and mad Gaels bouncing about so as to re-enact the battles.
On hand was Alison Doyle and her family, who have previously lived in the South of Sweden.
Alison commented that; "The event itself was very very well organised, we had a great time and the weather was just brilliant"
She also noted that from her time in Skåne, that she went every year to Foteviken and she recognised some Skånsk Vikingar who had come to partake in the commemoration.
The photos taken are from the day. The Battle of Clontarf almost 1000 years to the day that the High King of Munster (Ireland), Brian Boru, fought the King of Leinster (Dublin) in a gruesome battle that lasted an entire day.
Being a Doyle, Alison has a link to the happenings and mentioned:
"Ah now I don't think you'll get much out of me …….. let's say my surname was given to the Danes and means Dark Stranger
"It led to lots of chaos afterwards with no clear leader, as almost all were wiped out, but it certainly paved the way for a more harmonious understanding and acceptance between the Irish and Vikings- phew!"
All in good fun and humour.
Below is a documented description of the surname Doyle
Doyle
This is a variant of MacDougall and MacDowell. It is an anglicised form of the Gaelic personal nam Dubhgall composed of the elements 'dubh' meaning 'black' and 'Gall' for 'stranger'. It was originally a name used by the Scandinavians for the Danes. The name arrived in Scotland in the 14th century for Scotland. The motto for Doyle is 'He conquers by fortitude'
Thank you to the contribution of Alison Doyle and Daniel Browne for the images

Author: Gavin Doyle
further articles related to the occasion: Music and storytelling event – The Battle of Clontarf