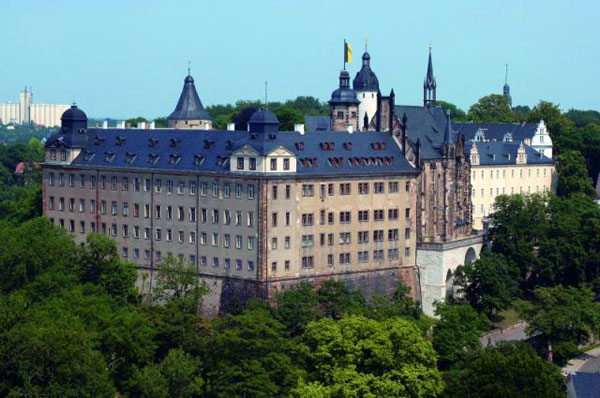 We hear there are a lot of UNESCO World Heritage aficionados around touring the world on a mission to see as many sites as possible. The Cultural Heart of Germany with the neighbouring regions of Saxony, Saxony-Anhalt and Thuringia has nine entries on the UNESCO list and makes it easy for travellers to go on a cultural and natural treasures trip.
Of Bauhaus and gardens
In Saxony-Anhalt visitors can find three UNESCO World Heritage sites within close proximity: The Garden Kingdom of Dessau-Wörlitz is a stunning example of landscape design of the Age of Enlightenment including palaces and landscaped parks and gardens in the English style. Together with the baroque ensemble of the town, palace and park of Oranienbaum it forms a striking World Heritage. Dessau also features the Bauhaus building and Masters' Houses which are part of the Bauhaus World Heritage sites in Dessau and Weimar.
Lutherstadt Wittenberg, east of Dessau, forms another UNESCO World Heritage together with Eisleben where the eminent reformer Martin Luther was born. Next on the list are the town of Quedlinburg with 1300 timber-framed houses spanning six centuries as well as the Middle Elbe Biosphere Reserve which is part of the UNESCO Elbe River Landscape. In Saxony, Muskau Park which reaches across the River Neisse and into Poland, pioneered new approaches to landscape design and received the UNESCO stamp of approval in 2004. It was created in the 19th century by Prince Hermann von Pückler-Muskau who was inspired by travels to England to transform his estate into an expansive landscape park.
Classical beauty and stunning nature
Thuringia not only features the Bauhaus sites Bauhaus University and "Haus am Horn" in Weimar, but a further three UNESCO treasures: The World Heritage complex Classical Weimar acknowledges the high artistic quality of buildings and parks in Weimar that stand for the remarkable cultural flowering of the town which attracted leading German writers and thinkers such as Goethe and Schiller in the late 18th and early 19th century. Just over 30 miles away, imposing Wartburg Castle towers over the town of Eisenach, and visitors can go on a tour of almost thousand years of history in one of the best-preserved castles in Germany where Martin Luther translated the New Testament and Wagner's romantic opera "Tannhäuser" is set. Wartburg Castle as well as other UNESCO sites in Weimar will host special concerts next year with Germany putting a special focus on its World Heritage sites in 2014.
Not far from Eisenach, travellers will find Thuringia's natural world heritage site Hainich National Park, known as a "jungle in the middle of Germany". It is part of the UNESCO Primeval Beech Woods of the Carpathians and Old Beech Woods of Germany site and features a treetop walk plus the opportunity to go on peaceful rambles through untouched nature.