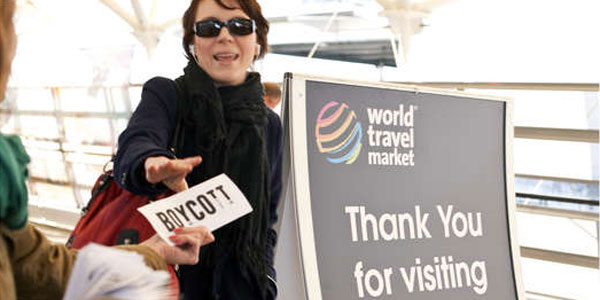 At today's opening of the World Travel Market in London, supporters of Survival International, the global movement for tribal peoples' rights, called on visitors to boycott travel to Botswana over its persecution of Africa's last hunting Bushmen.
The protestors handed out leaflets to travel industry professionals and urged visitors to support Survival's tourism boycott until Botswana upholds the Bushmen's right to freely access their ancestral land in the Central Kalahari Game Reserve (CKGR).
Botswana is promoting tourism, its second largest industry, at the WTM all week. But while it uses glossy images of the Bushmen to promote trips to the country, the government is driving the tribe off their ancestral land by preventing the Bushmen from hunting – and requiring many to apply for permits to visit their families, akin to the controversial Pass Laws designed to control the movement of black Africans and which effectively separated black families under apartheid South Africa.
Since Survival launched its boycott in September 2013, thousands of travellers have pledged not to visit Botswana until the government upholds the Bushmen's right to freely access the CKGR, and travel companies Travelpickr, Horizonte Paralelo and Annie Bulmer Travel have joined Survival's boycott.
Annie Bulmer Travel said in a statement, 'We're saddened and shocked to hear that Botswana's Bushmen are being chased out of their reserve by the government. The Botswana tourism board would have tourists believe that the Bushmen are one of the country's greatest assets, but it seems soon there will be no Bushmen left. Annie Bulmer Travel will not be sending tourists to Botswana until its indigenous residents are treated with dignity and respect.'
Botswana's treatment of the Bushmen has been widely condemned. The United Nations Special Rapporteur on Indigenous Peoples, the African Commission on Human and Peoples' Rights and the Bar Human Rights Committee of England and Wales have all spoken out against the government's behavior, and the Bushmen's plight was recently highlighted by the BBC World Affairs editor John Simpson and columnists in the UK's 'Spectator' magazine, South Africa's 'Business Day' and Kenya's 'Africa Review'.
Survival's Director Stephen Corry said today, 'Botswana continues to market tourism to foreign visitors using the iconic image of Bushman hunters. It's somewhat ironic given that the government is wilfully pushing the tribe to the brink of destruction. Survival's boycott aims to ensure all potential tourists to Botswana know that President Khama's vicious policy is set to bring about the end of the last hunting Bushmen. If the government wants our boycott to end, it simply has to uphold the Bushmen's rights.'
source: Survival International