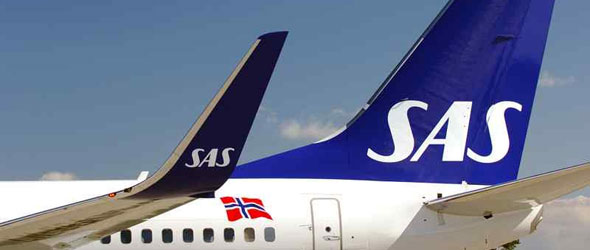 SAS continues to grow and has the highest customer satisfaction in 11 years after having reduced costs by a quarter.
Following last autumn's decision to expand, SAS has started 13 new routes this year and an additional four new routes will be introduced this coming autumn. SAS will also launch its second long haul route within a year next March with Copenhagen-Shanghai. At the same time, the customer satisfaction has reached its highest level in 11 years and in June, SAS passenger load factor was at a record high.
Last month, SAS ordered 30 new Airbus A320neo aircraft, the market's most environmental and fuel efficient aircraft.
"Following a long term quality improvement program that was initiated already in 2006, we are starting to see clear results. Not only that, we were Europe's most punctual airline in 2009 and 2010, we now also have the highest customer satisfaction in eleven years. This has occurred simultaneously with a reduction in the costs by a quarter, excluding jet fuel. This has provided for our growth this year and in combination with our large cost reductions, we have improved our competitiveness. After the success of both our business and leisure destinations, we look forward to continuing with our focus on improving our offering with the best, smoothest and most cost effective travelling for our customers." comments Alan Sparling, Ireland Manager, Scandinavian Airlines.
SAS punctuality has continued to be of world class during the first six months of this year and during June, SAS was again Europe's most punctual airline.
The passenger load factor was also at a record high in June at 80.6%. During the first half of 2011, the SAS Group increased the capacity by 10%, above all on Intrascandinavian routes as well as European routes where SAS introduced a number of new leisure routes in addition to more frequencies on business destinations. Within the same timeframe, the number of passengers has increased by more than 12%.
Scandinavian Airlines have been flying consistently from Dublin to Scandinavia for 44 years. SAS fly direct from Dublin to Copenhagen, Stockholm and Oslo from as little as €69 one way including all taxes and charges.
Scandinavian Airlines fly 24 times a week direct from Dublin to Oslo, Stockholm, Copenhagen and onwards to Scandinavia and the Baltics.