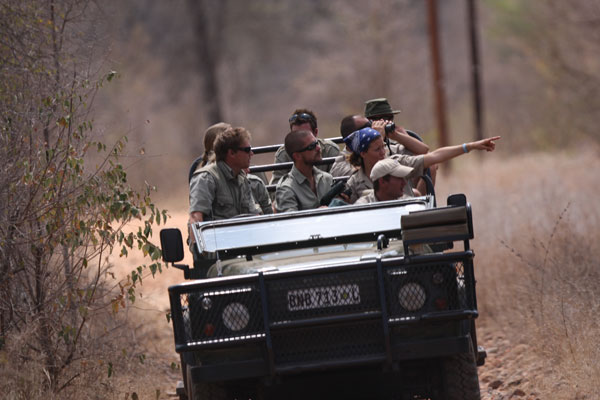 This new year, Bushwise, a leading professional training provider in the Safari industry in South Africa, has expanded its career-boosting course offerings to now provide Hospitality Internships at luxury safari lodges across South Africa, alongside it's long-standing top-ranking Field Guides Association of Southern Africa (FGASA) Safari Field Guide Training Course.
Bushwise has welcomed almost 300 students from around the world through its doors since its beginnings in 2006, many of whom had turned their backs on their grey office jobs to live their dream career working with wildlife in the African wilderness. Bushwise has built a reputation as one of the best training schools in the safari industry and, for those searching for a career change or simply nurturing a passion for wildlife and nature, can enable dreams to become a reality. 2014 sees Bushwise's doors open not only to those wishing to train to gain professional qualifications in field guiding, but also, for those embarking on a career in the hospitality, safari lodge-based Internships at some of South Africa's finest game lodges, enabling applicants to gain unparalleled hospitality career experience in an exhilarating, wild and beautiful setting.
A family holiday to Africa, a drive in Kruger Park or a safari experience no matter how big or small can leave a huge and lasting mark on an individual's memory and can spark a long term desire to return to the Bush and learn its secrets. To most these fantasies remain a pipedream. Bushwise can make these dreams a reality.
Jason Kipling, Bushwise graduate, began working life as a professional audio engineer in the UK. His childhood fascination with Africa and all things wildlife captivated his mind and fuelled his desire to pursue a career that fulfilled his passions. Choosing the Bushwise FGASA Field Guide Training course catapulted Jason into a career in the safari industry, first taking a permanent position as a guide at South Africa's Pilansberg National Park immediately upon graduation and he now holds the position of Head Guide and Ranger at Umkumbe Game Lodge on the Sabi Sands Game Reserve; South Africa's ultimate luxury safari destination.
"For somebody like me who has a passion for the bush and for nature in general, to be constantly surrounded by instructors who have a massive wealth of knowledge which they were only to excited to share was definitely a highlight of the Bushwise course, as well as being surrounded by like-minded individuals all on the same path to learn and experience the bush on a far deeper level. I am now working in Africa's premier safari destination and that is a privilege!"
"The Bushwise course was inspirational – some of the best months of my life"
– Jason Kipling, Bushwise graduate and Head Guide & Ranger at Umkumbe Lodge, Sabi Sands Game Reserve
Bushwise's expansion in 2014 will see an increase in opportunities for applicants from around the world to train and gain career-boosting qualifications and experience which can be the springboard to a dream career.