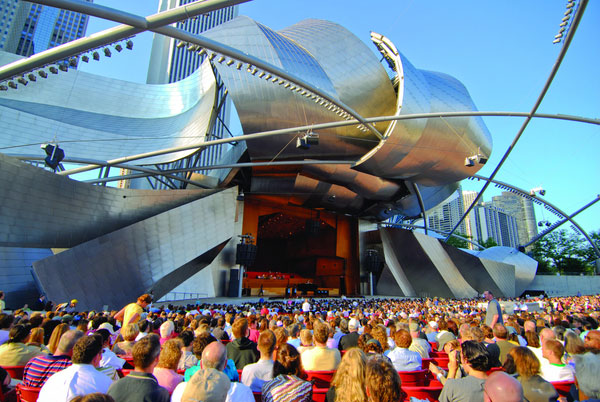 Mayor Rahm Emanuel and Don Welsh, President and CEO of Choose Chicago, today announced that Chicago set multiple tourism records for the summer 2014 travel season. For the first time, Chicago saw records across all key performance indicators — demand, occupancy, supply, average daily rate, revenue per available room and overall revenue. Chicago's record hotel performance during the peak tourism season of May – August shows that the City is on pace to achieve Mayor Emanuel's goal of 55 million visitors a year by the year 2020 and create 30,000 additional jobs.
"This summer was a prime example of how, by making Chicago a destination for national and international travelers, leisure and business alike, we are making important gains that are bringing more opportunities to more Chicagoans," said Mayor Emanuel. "Our strategy is working and we will continue to aim higher to set new records next year, because bringing more conventions and tourism to Chicago means more jobs for residents and further supports our City's economic growth."
This year, during the summer season, Chicago had a record high 4.56 million hotel rooms available for occupancy, an increase of more than 117,000 room nights from 2013. For the fifth consecutive year, demand outpaced growth in supply, resulting in higher occupancy rates. Chicago's hotels saw a record 87.2 percent occupancy during this period, a gain of 1.8 percent over 2013.
"Mayor Emanuel and our partners continue to support the mission and goals of Choose Chicago. The investments we have made in the regional, national and international markets are working," said Welsh. "Visitors from around world are discovering the tremendous experiences Chicago offers year-round. We are extremely pleased with these results and the impact on Chicago's overall economy."
In July, Mayor Emanuel and Choose Chicago announced Chicago had surpassed one million occupied rooms for the first time. In August, Chicago again surpassed one million occupied rooms and overall room demand for the summer season reached another record with 3.98 million rooms sold, a 4.4 percent increase over same period in 2013. In another key area, leisure room demand, Chicago saw a record 2.48 million rooms sold, a gain of 6.3 percent over 2013 and the largest May – August increase since 2009.
Chicago is among the fastest growing domestic markets for new hotel development. Supply grew at a rate of 2.6 percent, the fastest pace since the recession, and average daily rates for hotel rooms reached a record $215.92, a gain of 2.5 percent. This marks the fifth consecutive year that Chicago had record summer pricing gains. In addition, Revenue per Available Room reached a record $188.30, a 4.3 percent increase over last year.
All of this contributed to overall hotel revenue of $858.5 million for the summer, a seven percent increase and the fifth consecutive year of growth, and generated a record $47.9 million in city tax revenue for the City of Chicago. This year-over-year growth continues to spur new employment in Chicago. Since 2011, the City has added nearly 5,200 tourism-related jobs.
These milestones follow an exceptional first half of 2014, which produced record demand in Chicago with a 2.2 percent increase over the first six months of 2013. Chicago's hotel community offered an additional 313,000 room nights compared to the same period in 2013. This growth represents 4.67 million hotel rooms occupied in the first-half of 2014, which further supports the 133,000 jobs and more than $13 billion in spending generated as a result of annual visitation to Chicago.