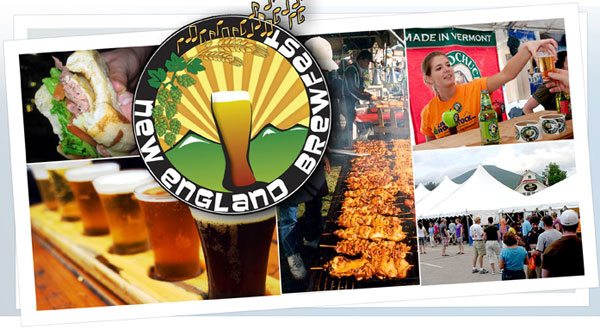 Crafty beer-lovers looking for the perfect beverage to pair with a perfect summer destination will love New England Brewfest, the ultimate craft beer event, which will celebrate its 10th anniversary in New Hampshire this year from 27-29 June.
One of the biggest music and craft beer events in the US, beer enthusiasts will experience the fruits of the region's best and award-winning brewers "on tap", offering a plethora of craft beers accompanied by classic cuisine, live entertainment, workshops and demonstrations – all served up in the historic town of Lincoln, in the heart of New Hampshire's picturesque White Mountains.
Sure to introduce discerning beer enthusiasts to a new array of flavours, Saturday Night ON TAP is the main event (28 June) of the festival which offers guests over 100 different craft beers from 33 regional breweries. The event includes all tastings in the admission price, combined with cuisine from a number of local stalls available for sale. Demonstrations on home-brewing, live bands and entertainment will bring the festival to life. Highlights for the 10th anniversary this year include performances from New Hampshire native and The Voice USA contestant, Josh Logan, as well as the New England Music Awards' "Band of the Year", Adam Ezra.
Other beer-infused events include educational workshops and panel discussions from local breweries on the history of craft beer, home brewing and tastings as well as tours, talks and an array of well-paired breakfasts and lunches.
Visitors can also enjoy a "farm to table" dinner with local beers at the Woodstock Inn Station & Brewery, a traditional New Hampshire craft brewery and restaurant. Having recently undergone a $30 million expansion which includes a new 30-barrel brewing facility, guests will find the ideal location to socialise over a pint while watching brewers hard at work perfecting handcrafted ales.
New England boasts a lively beer scene and an entire ecosystem of award-winning breweries, brew pubs and local farms, many of which offer special tastings and brewery tours. Travellers may also take advantage of a number of state beer trails throughout New England.
An all-access pass to the New England Brewfest festivities starts from $175 per person. Alternatively, travellers can pair accommodation in a traditional New England lodge for the festival with an all-access pass from just $259 per person.
American Sky (www.americansky.co.uk, Tel. 0843 636 4509) features Lincoln, New Hampshire, in its 'Taste of New England' self-drive holiday.  Priced from £939 per person for departures from June to October 2014, and based on two adults sharing, the holiday includes return economy class flights from London-Heathrow to Boston with British Airways, seven nights' accommodation and economy car hire with fully inclusive insurance.
For a full list of events, or to find out more about the 10th New England Brewfest, visit www.nebrewfest.com