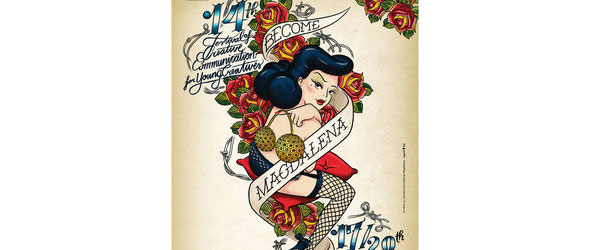 The three-day Festival of Creative Communication – Magdalena is going to commence on Thursday 17 May 2012. Under the auspices of programme strand Terminal 12, Magdalena is going to offer assorted events such as workshops, lectures, roundtables, exhibitions, concerts, competitions, etc.
Magdalena 2012, an internationally renowned Maribor festival of young creatives for the promotion of fresh ideas in design, copywriting, and illustration, is after twelve years, turning into a biennale. The once three day festival is becoming a constant multimedia and interactive platform on the internet, which searches, encourages, promotes and brings together young designers, illustrators, internet hackers, mobile freaks, professionals, amateurs and students and it will continue to do so. It will keep on supporting creatively original and socially responsible solutions in the design of printed, moving, interactive and experimental media, logos and typographies. The best solutions will in 2012 make a transition from the virtual to the real world and will be presented in workshops, exhibitions, lectures and guerrilla actions on squares, streets and other visible parts of Maribor 2012 – European Capital of Culture partner cities.
Official opening of the Magdalena Festival 2012 will take place at Stari most (Old Bridge), where the Rolledover Poster exhibition will be on display . 10 creatives spent 4 days crating big scale matrix which will be pressed on the street using a construction roller. So watch your fingers! Constructed in cooperation with TipoRenesansa.