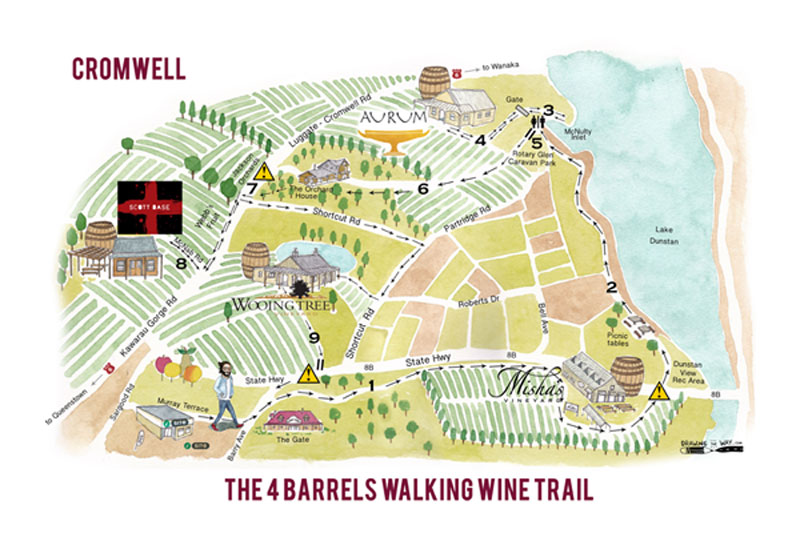 In Central Otago – New Zealand's pinot noir heartland – you can stroll the vineyards on a new walking wine trail that visits four premium wine tasting rooms.
Cromwell's new walking wine trail offers new wine experience
The 4 Barrels Walking Wine Trail is the latest way to navigate around four of Central Otago's premium wine tasting rooms.
The new walking wine trail, just unveiled, provides an easy way for wine-lovers to visit four of Central Otago's top wine producers on foot. The self-paced 8-kilometre loop trail includes Misha's Vineyard, Aurum Wines, Scott Base and Wooing Tree Vineyard, as well as capturing some wonderful scenery through orchards and around Lake Dunstan.
Central Otago, on New Zealand's South Island, is famous for its pinot noir as well as producing other varietals with a distinctive taste and the new walking tour is the perfect way to enjoy the range of wines from the region.
The total walking time on the trail is approximately 90 minutes and can be completed in 3.5 hours including tasting stops. At three of the tasting rooms there are lunch and platters available or the option of bringing one's own picnic and finding a scenic spot.
"Together we offer an incredibly diverse range of wines which really showcases the depth and diversity of this amazing winegrowing region" said Misha Wilkinson, Director of Misha's Vineyard.
As well as tasting Central Otago's famous pinot noir, wine selections include pinot gris, rosé, Chardonnay, sauvignon blanc, gewürztraminer, riesling, sparkling and dessert style wines, port, and even a beer option at one of the tasting rooms.
The 4 Barrels Walking Wine Trail brochure includes a uniquely illustrated trail map designed by South American artists Marcelilla Pilla and Leandro Baud, who now live in New Zealand. Walkers are encouraged to visit all four tasting rooms to gain a stamp on the brochure's passport page in order to enter the quarterly draw to win a mixed case of wine from the participating wineries.
The initiative for this walking wine trail was prompted by the increase in the number of tasting rooms that have opened in close proximity to Cromwell's town centre as well as the rise in tourism across the region.
Monthly regional tourism estimates from the Ministry of Business, Innovation and Employment (MBIE) show that the Central Otago region was up 9% to NZ$190 million in visitor spending for the year ending June 2017. NZ Winegrowers, the national industry body has partnered with Tourism New Zealand to further promote wine tourism experiences as international visitor data shows how important wine experiences are to visitors.
Central Otago
Central Otago, in the central South Island, is located further from the sea than anywhere else in New Zealand and has one of the country's lowest population densities of 1.7 people per square kilometre. Once crowded with gold-rush fortune seekers, the region is less populated today but still characterised by its geography and a different kind of gold – the fine pinot noir wine that is now its number one claim to fame.
The region is also known as a cycling destination. The multi-day Otago Central Rail Trail is popular with leisure cyclists and two newer trails – the Roxburgh Gorge and Clutha Gold cycling and walking trails – have added considerably to the opportunities to explore Central Otago.