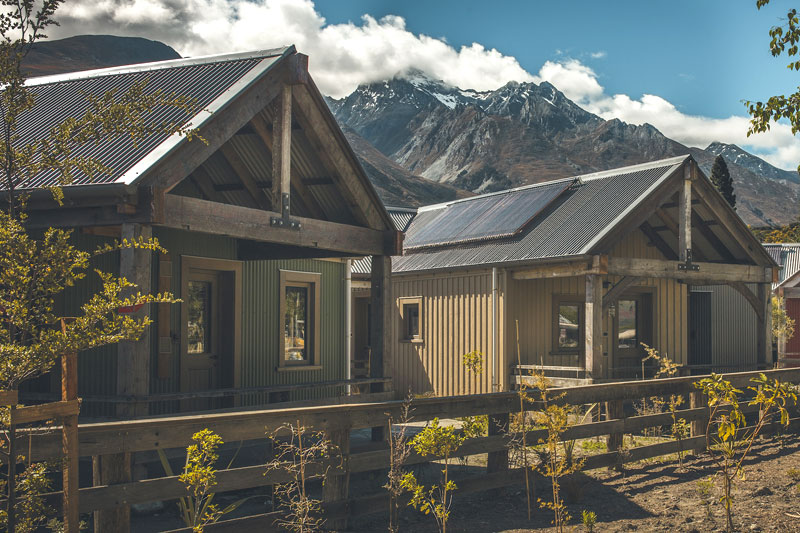 New Zealand has taken three spots in TIME Magazine's second annual World's Greatest Places list.
TIME celebrates three New Zealand sustainability initiatives
Queenstown's Camp Glenorchy, Wellington's Zealandia Ecosanctuary and Hiakai restaurant are listed amongst the world's best, each in a different category but all with a focus on sustainability and providing a welcoming, warm experience for all their guests.
New Zealand's entrants are special in their own unique way. Camp Glenorchy provides net zero sustainable accommodation, Zealandia's grassroots conservation work that inspired a city sets them apart and Hiakai provides diners with an unparalleled contemporary indigenous food experience.
Camp Glenorchy – Stay
Camp Glenorchy took the sustainability bar and set it up high when they opened in March 2018. Forty minutes north of Queenstown in the small community of Glenorchy, the net-zero hotel and campground aim to use 50% less energy and water than similar accommodations by relying on a solar garden, smart lighting and using smell-free composting toilets in each unit. Guests can keep track of their energy use with the in-room tablet.
Award-winning Camp Glenorchy has already scooped New Zealand's top sustainability awards, the 2019 100% Pure New Zealand Experience Award and the 2019 Tourism Industry Aotearoa Sustainability Innovation award.
Camp Glenorchy is the vision and creation of US-born Glenorchy locals Paul and Debbi Brainerd. Passionate about the guest experience, Debbi Brainerd said she was inspired by local landscapes and artists to help her create a welcoming environment. "We've tried to create an experience at Camp Glenorchy that integrates the latest technology, while also delivering a warm, friendly experience for our guests," said Debbi.
ZEALANDIA Ecosanctuary – Visit
A slice of native paradise is not what you expect to find in a capital's inner city, but Wellington's Zealandia Ecosanctuary is exactly that. The brainchild of conservationist Jim Lynch, the sanctuary was inspired by a vision to return part of the city to its pre-human condition. Some of Zealandia's many volunteers are always around to welcome visitors and share insights into the valuable work they are all contributing to.
Terese McLeod who guides the blind and visually impaired through the sanctuary loves welcoming her guests and giving them an entirely unique experience.
"I'm much more interested in giving people a mihi whakatau (Māori welcome speech) or whakawhanaungatanga (relationships) with the environment. Introducing people to the moods and characters of the natural world, meeting the various members of my family who feel like meeting you."
Hiakai – Eat and Drink
Monique Fiso's restaurant Hiakai is more than just a place to experience indigenous cuisine in a fine dining setting. Her demand for traditional ingredients that weren't readily available has inspired new supply chains and a new appreciation of Māori and Pacific food.
What she can't buy, Monique and her team are out foraging for in the surrounding Wellington region and creating a one-of-a-kind dining journey which is spear-heading an indigenous food revolution in New Zealand. At Hiakai, Fiso and her staff also celebrate manaakitanga, a Māori word that loosely translates to 'hospitality' and they aim to share an education with their guests.
"We use a lot of Māori ingredients that a lot of people have never heard of before which led us to creating a glossary at the back of our menu going into detail about the native ingredients that guests are eating," Fiso explains.
TIME Magazine compiled the list based on recommendations from editors and correspondents around the world as well as industry experts. Each nomination was evaluated on key factors, including quality, originality, sustainability, innovation and influence.