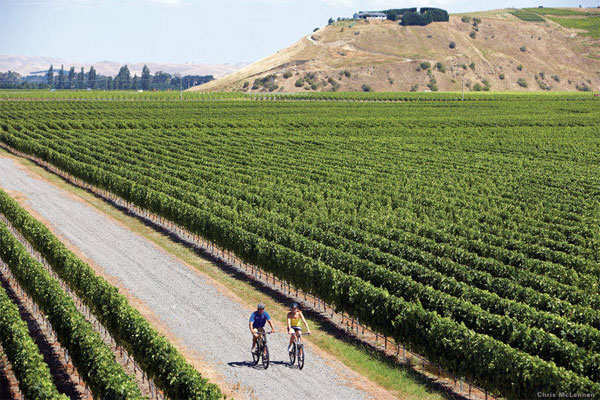 A spring day in New Zealand brings mild conditions, often tinged with a fresh spring breeze, to invigorate a multitude of outdoor activities and one of the best ways to take in the springtime is on the seat of a bike to enjoy Spring Cycle Rides.
Spring Cycle Rides
Nga Haerenga or New Zealand's Cycle Trail network caters to cyclists who are looking for amazing multi-day adventures but for beginners who're just looking for an easy ride to take in the scenery there are a mutitude of options.
The popularity of short-course cycling experiences is on the rise and the good news is that there's no need to bring your bike with you to New Zealand. Bicycle rental shops have sprung up all over the country and many operators are keen to take tourists on short guided cycle trips.
Auckland Waterfront
A cycle along Auckland's waterfront is a great way to see the city as well as gorgeous views of the Waitemata Harbour and Rangitoto Island. From downtown Auckland, cyclists head east along the water's edge towards Mission Bay, 8km from the city. The winding, flat stretch of road with a dedicated cycle lane is a popular weekend activity for locals. Mission Bay is the ideal stop for an ice cream or fish and chips on the beach. There are plenty of pubs and cafés for those looking to whet their whistle after the leisurely cruise. Adventure Capital offer guided tours or tourists can easily just hire a bike and find their own way.
Redwood Forest Rotorua
The Rotorua Redwoods are a hidden treasure in an area of New Zealand otherwise well known to tourists for its geothermal attractions and Māori culture. Found within the Whakarewarewa Forest (just five minutes from central Rotorua), the Redwoods boast around 130km of continually evolving trails. Hire your bike on the spot and find a trail to suit – there's something for every cycling level from beginners and family groups through to experts looking for extreme adventures. During spring the Redwoods are at their best and, whether you are on a bike or simply taking a stroll amongst these giants, you will have a special experience. The 110-year-old redwood trees, which featured in Disney's new film Pete's Dragon, provide shelter to the kaleidoscope of ferns, shrubs, flowers and fungi far below. For a different perspective, hop off the bike and do the Redwoods Treewalk, a treetop experience over 23 suspension bridges traversing the gaps between 22 majestic trees.
Takaro Trails, Hawke's Bay
Hawke's Bay, on the eastern coast of the lower North Island, is the perfect spot to combine cycling with a drop of wine tasting. Starting at the Black Barn Vineyard, cyclists make their way through vineyards, orchards and along the coast on this short one-hour leisurely ride. During spring the vines take on a spectacular green and orchard trees are in full blossom. The cycle trail makes its way to the famous Elephant Hill winery, one of New Zealand's leading wine producers. The recommended finish is in Elephant Hill's restaurant – a great spot for lunch and to taste some of the produce the Hawke's Bay's region is famed for. Takaro Trails can design a cycle tour to suit you and are happy to privately guide guests on the trails.
Martinborough Green Jersey Tour
If the sun is shining and you fancy a doddle between the vines and olive groves, then pick up your e-bike from Green Jersey Cycle Tour Company in Martinborough. They're located in a big shed right on the main road into the little wine village and from there it's only a short ride into the pleasant olive groves and famed vineyards of this boutique wine region just north of Wellington. Green Jersey offers guided cycle tours or bikes to rent – choose from a big selection of comfortable pedalling machines, an e-bike that makes pedalling easy or let someone else do the work while you ride in the rickshaw. Along the way, you can taste local delights – there's a bunch of nice cafes in town, cellar doors and an olive oil tasting room all within a short ride of the village.
Wellington wanders
Wellington – New Zealand's capital city – is a haven for cyclists. During the morning commute the bikes often outnumber the cars around the city. In addition to getting to work, cycling is a great way for a tourist to see New Zealand's culture capital. The Enormous Crocodile Company is a novel way to explore the Wellington coastline on wheels with a 3- or 6-seater quadricycle. Discover Oriental Bay, with its cafés, popular beach and swimming pontoons, cruise past Te Papa Tongarewa – The National Museum, and follow the Writer's Walk to Kupe's statue at Queen's Wharf. Switched on Bikes offer electric bikes and guided tours of Wellington. E-bikes make cycling easy and a short 7km course will reach Zealandia, the world's first fully-fenced urban eco-sanctuary, where admission is free to visitors who arrive on a Switched On e-bike. Zealandia even has a charging station for your e-bike. Inside the sanctuary there are rare native birds and New Zealand's own dinosaur, the tuatara.
Marlborough & Nelson gourmet cycling
New Zealand's Marlborough region, at the top of the South Island, is world renowned for its sauvignon blanc wines. Explore Marlborough will take you on a gentle cycle to some of Marlborough's best wineries sampling perfect drops along the way. Choose from a half or full day of cycling while learning about local wines and region.
Nelson, a two-hour drive to the west, will tempt with gourmet cycling tasting some of the best seafood, produce and craft beer with Wheelie Fantastic Tours. Tailor-made tours follow sections of the Tasman Great Taste Trail, one of New Zealand's Great Rides. The tour can include visits to boutique wineries offering award-winning wines and New Zealand's oldest pub but Wheelie Fantastic is also happy to take you wherever you want.
Dunedin – Otago Peninsula
The South Island's Otago Peninsula is a treasure trove of wildlife. Just 10 minutes from Dunedin, the peninsula is home to little blue penguins, the smallest in the world, as well as the endangered yellow-eyed penguins. The Royal Albatross Centre found on Taiaroa Head is the only mainland breeding colony for albatross in the southern hemisphere. The best way to take in this beautiful rugged peninsula is on an e-bike hired from Glenfalloch Gardens. In springtime Glenfalloch is in full bloom with rhododendrons and cherry blossoms showing off their colours. Visit the wildlife then cycle to Larnach Castle, New Zealand's only real castle, and explore the grounds before having a delicious high tea, just like royalty.
Queenstown adventures
Queenstown is famed for high adrenalin adventure activities such as bungy jumps and jet boating, but it is also an awesome spot for some leisure cycling. The Gibbston River Ride, a section of the Queenstown Trail, begins at the historic Kawarau Bridge – home of the world's first-ever bungy operation. Take the leap yourself or watch a few other people do it before heading off along the trail into wine country. Visit some stunning wineries including Peregrine and Gibbston Valley and taste some of the pinot noir that has made this region famous for its grapes. Around the Basin bike tours have several tour options and can customise a tour to suit you.
Another rural option is to take a relaxing cruise across Lake Wakatipu aboard Southern Discoveries' Spirit of Queenstown. Disembark the vessel on the western shore at Mt Nicholas Station, pick up a bike and set off on the 14km journey to Walter Peak High Country Farm. The quiet country road ambles through open farm land as you make your way to Colonel's Homestead. Enjoy a barbecue lunch before heading back to Queenstown on the vintage steamship TSS Earnslaw.