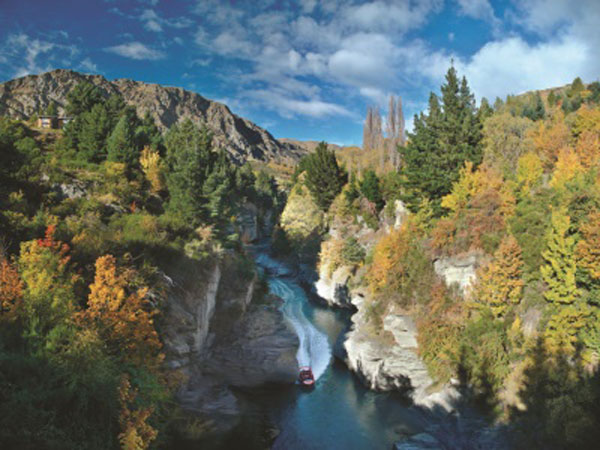 Queenstown's Shotover Jets wind through spectacular rocky canyons on a breathtaking journey.
The Shotover Jet has carried more than three million passengers, hurtling down the Shotover River rapids with squeals of equal parts terror and delight at the full 360-degree spins, twists and tight turns between the grey rock canyons of one of New Zealand's most memorable landscapes.
Today, Shotover's signature 'Big Red' jet boats are one of New Zealand's most famous and iconic tourist attractions and widely regarded as the world leader in commercial jet boating.
The jet boats, which have been specifically designed to handle the Shotover River Canyons, are a prime example of the innovation and development that has been a hallmark of the company's operation.
The only licensed operator in the Shotover River Canyons, the jet boat operators are recognised for their world class health, safety and maintenance procedures that often exceed industry standards.
Shotover River
The towering rocky canyons and rushing waters of the Shotover River represent one of New Zealand's most iconic geographical features. It also has a rich history.
The spectacular canyons were carved out over thousands of years by the fast-flowing mountain waters of the Southern Alps. The river is 60 km long and the jet boat trip covers return trips on a 7km stretch.
'Kimi-ākau' – the original Māori name for the Shotover River – means 'searching for the coast', referring to ancient times when it was used as a trail to the West Coast to find pounamu / New Zealand greenstone.
The Shotover River was the richest gold-bearing river in New Zealand following the Otago Gold Rush in the 1860s.
The historic Edith Cavell Bridge, under which the jet boats travel, was named after courageous WWI British nurse Edith Cavell, executed in 1915 by the Germans after admitting to harbouring Allied soldiers.
Shotover Jet boats
Shotover Jet's fleet of twin engine jet boats – powered by two 5.8 litre Mercruiser V8 engines capable of 660hp – travel at speeds of up to 85kmh (53mph) in as little as 10cm of water. Each jet unit expels 350 litres of water per second to power the boats.
The boat interiors are based on a single-piece carbon fibre 'fifth generation' prototype mould that contains 14 passenger seats.
The jet boats' innovative propulsion system – which allows them to safely speed across the shallow rocky terrain – is based on the Hamilton Waterjet, designed more than 50 years ago by legendary Kiwi inventor Sir William (Bill) Hamilton.
Shotover Jet history
The first jet boating activities go back to 1960 when the Melhop brothers began organising trips as fundraisers for Christian youth camps.
The tourism operation as it is known today began in 1970 when Trevor Gamble purchased the first boat. The original 'Jet 53' was a wooden boat that carried five passengers.
Today Shotover Jet is owned by New Zealand Māori tourism dynasty Ngāi Tahu Tourism which owns and operates a portfolio of leading tourism activities around New Zealand.
The Shotover Jet started winning awards in 1993 and its numerous accolades include the New Zealand Tourism Supreme Award.
Quick Facts – Shotover Jet
Shotover Jet has a fleet of 7 red boats, carrying 14 passengers plus the driver
The jet boats are powered by two 350 Mercruiser V8 motors with a total 700 horsepower
The boat ride lasts for an exhilarating 25 minutes
From Queenstown, the round-trip experience takes about 90 minutes
Spray coats and life jackets are provided, but to keep the hairdo in check, a middle seat is recommended
Phones and cameras are not permitted on board but there are plenty of before and after photo ops from the beach and viewing deck
Jet boat pilots undergo 120 hours of rigorous training (double the industry standard requirement) before carrying their first passenger.
Famous people who have enjoyed Shotover Jet include the Duke and Duchess of Marlborough, Damon Hill, Sir Ian McKellen, Brooke Shields, Hugh Jackman, Ryan Reynolds, Alanis Morissette and Kenny Rogers.