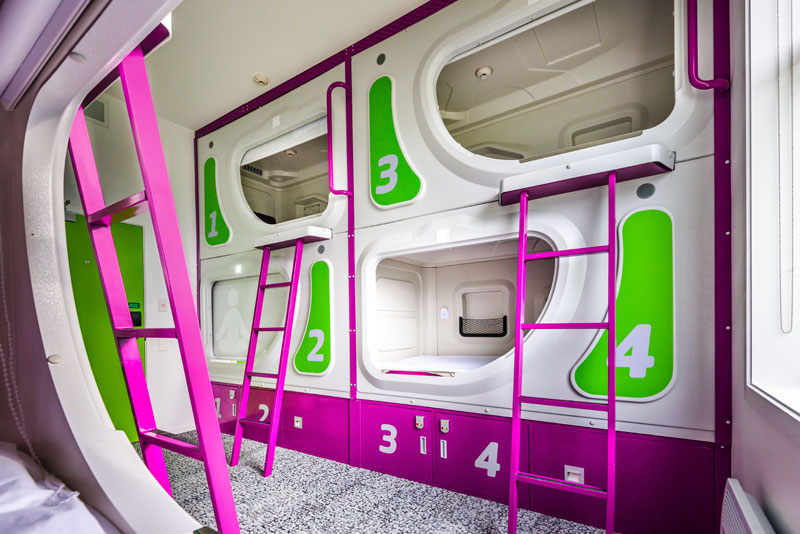 Christchurch – New Zealand's first ever 'micro accommodation' concept has been launched by tourism operator Jucy and will open to the public November 1.
Micro accommodation – pod style hostels
Christchurch, New Zealand's second largest city, is the home of the pod style hostels which see 271 beds just minutes from the international airport. The accommodation is low cost and short stay which makes them a perfect option between international flights or after long haul journeys.
The self-contained accommodation capsules or pods feature beds, storage lockers a power supply and WiFi connectivity. Jucy Snooze utilises technology to allow customers to self check in and out – either by smartphone or a specially designed kiosk avoiding queues.
Jucy CEO Tim Alpe says there has already been strong interest in the accommodation with 600 international bookings secured a month before its launch.
"We set about challenging the traditional service model of hostels, completely redesigning it to remove the barriers guests commonly encounter. In one example, our research found that hotels were inadvertently causing bottlenecks for their reception staff by forcing guests to leave at the same time.
"Any time when customers need to queue to pay their bill creates the potential for customer satisfaction to be diminished. We wanted the first and last impression our guests have to be one of efficiency and convenience," he says.
While the Jucy Snooze target market is primarily backpackers, room layouts have also been designed to cater to low cost travellers, families and baby boomers.
Visitors will be able to socialise and share communal spaces such as the general use lounges, with hot desks provided for casual web browsing.
The Jucy Snooze pod prices start at $39, with the pricing model designed to offer flexibility to accommodate tourists wanting to stay overnight, or a reduced rate for those who just want a few hours' sleep between connecting flights.
Jucy, also a popular car and caravan rental company, will begin construction shortly on a five story Jucy Snooze in Queenstown opening in June 2017.