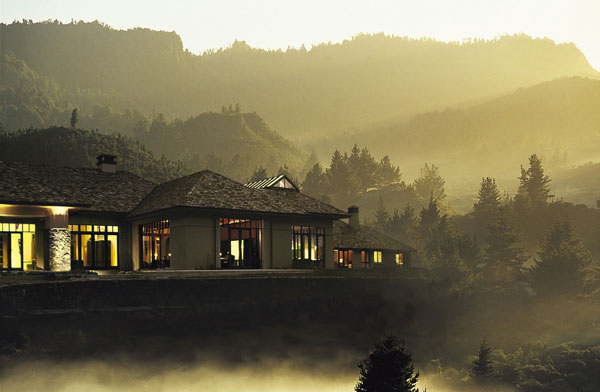 Treetops Lodge and Estate – a New Zealand luxury resort near Rotorua – is getting a little wild with its guests, showcasing the rich food store found on the vast private 2500-acre wilderness estate.
'Estate to Plate' – a new premium 4WD safari experience – is a guided, hands-on gourmet journey hosted by Treetops' gamekeepers and specialist wild food chefs that culminates in a feast, dining on the wild food finds of the day.
The safari journeys from the kitchen gardens to the estate paddocks and wilderness areas inhabited by roaming wild game – deer, water buffalo, pigs and rabbits, pheasant, partridge, duck, rainbow and brown trout. They also visit manuka honey apiaries producing wild native comb honey.
On safari, guests have the opportunity to taste and learn more about Treetops' heritage varieties of New Zealand's indigenous vegetables including native spinach (tetragonia), kumara (sweet potato), fresh turmeric, wasabi, native cress, and an abundance of fruit trees.
Wild food cooking
Treetops guests can also participate in a Wild Food Cooking School. The half-day, on-site course starts with foraging for native ingredients in Treetop's vast 800-year-old virgin forest.
Back in the lodge's open-plan kitchen, these ingredients are transformed into a series of signature Treetops' dishes incorporating many other home-grown elements – game meat, wild fowl, trout and koura (fresh water lobster) from the estate's seven lakes and streams.
Fresh herbs, vegetables and the swathe of local delicacies help create a menu showcasing unique New Zealand flavours.
21st century twist
The 'Estate to Plate' philosophy is showcased in all the meals and snacks served at the lodge, with staff committed to using estate reared and produced fare whenever possible. All produce from the estate is organic and pesticide free.
Their approach evolves from the traditional regional tables of the world's great, self-sufficient country estates that existed before refrigeration, freezers and pre-packs.
Every morning the chef sources from the estate garden and meets with the resident gamekeeper to select game and fish ingredients for the day. Dishes are then crafted to the preferred tastes of the in-house guests.
The menus are European contemporary and season specific, using simple techniques to bring out the clear, fresh flavours.
Eco tourism in a wilderness
When New Zealand luxury lodge owner John Sax began developing his wilderness property in the Rotorua region of the central North Island, he was determined to tread lightly on the land.
The result was Treetops Lodge and Estate – a five-star luxury destination dedicated to preserving its natural environment while allowing travellers to experience the best of New Zealand's natural surroundings.
"When I was growing up on a coastal farm not far away, the wild country was one of the joys of my life, and it still is for myself and many New Zealanders," Sax explains.
"We are very lucky here in that, unlike many other places, people still have relatively free access to wilderness areas. But even when I was young, I was conscious of how much we take from our natural environment and how little, sometimes, we put back."