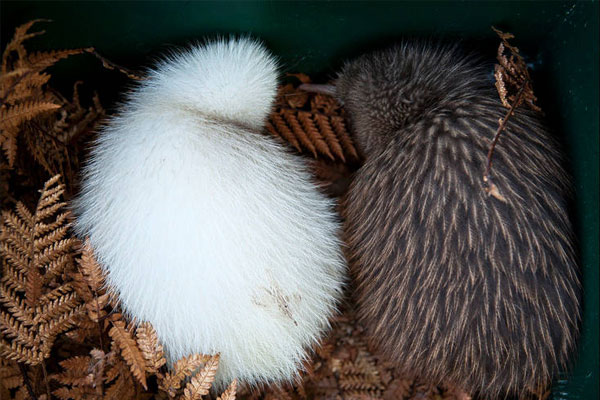 It's kiwi breeding season in New Zealand where white has become the new brown at New Zealand's National Wildlife Centre.
In New Zealand, white has become the new brown with the arrival of two more all white kiwi chicks at Pukaha Mount Bruce – New Zealand's National Wildlife Centre.
In the southern North Island region of Wairarapa, New Zealand's National Wildlife Centre at Pukaha Mount Bruce has just joyfully welcomed two precious little kiwi chicks into the world's rarest kiwi family –the 'all whites'.
The family history began four years ago with the arrival of Manukura – a precious little bundle of whiter-than-snow feathers, and the first white kiwi to be born in captivity – who has since been joined by two brothers, and now these newest arrivals.
A Department of Conservation ranger checking a male kiwi's transmitter last week discovered not one but two newly hatched white kiwi asleep in a burrow in the native forest.
It's not known yet if the latest chicks are male or female but this brings the number of all white kiwi hatched at the National Wildlife Centre, located a 15-minute drive north of Masterton and two hours from Wellington, to five.
The white kiwi, now dubbed the 'famous five' by the wildlife centre staff, actually belong to the North Island brown kiwi species. They are not albino (where a lack of melanin causes white pigmentation and pink eyes) but owe their unusual colouring to their parents who both carry a recessive white feather gene.
The burrow the white kiwi chicks were found in belonged to the father of the three other white kiwi previously hatched at Pukaha, general manager Helen Tickner said.
"Statistically we know that there is a one-in-four chance that chicks produced by the pair will be white, and as kiwi partnerships have been known to last for decades it's not completely unexpected. But it still feels like we've won the lottery! It's a great feeling for everyone involved".
The kiwi chicks were given a health check by Department of Conservation and Pukaha staff who confirmed the pair to be in good health. The chicks have started to feed by themselves and the decision was made that they would remain out in the reserve rather than be brought into the nursery.
Mrs Tickner says having kiwi hatch and survive in the wild is a great indication that the thousands of dollars spent annually on predator control in the reserve is paying off.
"Any kiwi chick hatching at Pukaha is a truly special occasion, but the white kiwi are currently unique to Pukaha and are a special treat for visitors," she said. "Our first white kiwi to hatch at Pukaha, Manukura, is living in our nocturnal house and visitors can see her every day"
Staff will regularly check the two chicks as their transmitters need to be re-sized regularly as they grow.
Background: White kiwi
The parents of the 'all whites' are North Island brown kiwi that were moved 700km from predator-free Little Barrier Island to the mainland sanctuary at Pukaha Mount Bruce to boost the local kiwi population. The translocation of 30 birds in 2010 was the single largest translocation of kiwi known.
A pure white kiwi is not albino (due to a lack of melanin that causes white pigmentation and features pink eyes) but the rare progeny of two parents who carry the recessive white feather gene.
As the first all-white kiwi hatched in captivity, Manukura's arrival in May 2011 received world-wide media attention. She is also the subject of a children's book Manukura – the white kiwi by New Zealand author Joy Cowley.
Maori consider the little white kiwi as a taonga – a treasure or special omen – and her name means 'of chiefly status'.
Visitors to Pukaha Mount Bruce National Wildlife Centre can see Manukura in the nocturnal kiwi house which she shares with another North Island brown kiwi. She has a cheeky personality and is quite bossy. The centre is open 364 days a year.
Background: Pukaha Mount Bruce Wildlife Centre
Pukaha Mount Bruce National Wildlife Centre, in the Wairarapa, pioneered captive breeding techniques for some of the New Zealand's most threatened birds. It is now an internationally recognised facility for a number of threatened New Zealand bird species.
Restoration of the Pukaha forest began in 2001 and trapping has allowed the reintroduction of native species into the unfenced reserve. Kiwi, kokako and kaka have all bred successfully in the wild at Pukaha.
Visitors can enjoy guided tours of the forest, feed eels, see native birds being fed and tour the kiwi house and interactive gallery. Puhaka Mount Bruce is open every day of the year except Christmas Day. The sanctuary is near the town of Masterton, a two-hour drive from Wellington, and an hour from Palmerston North.