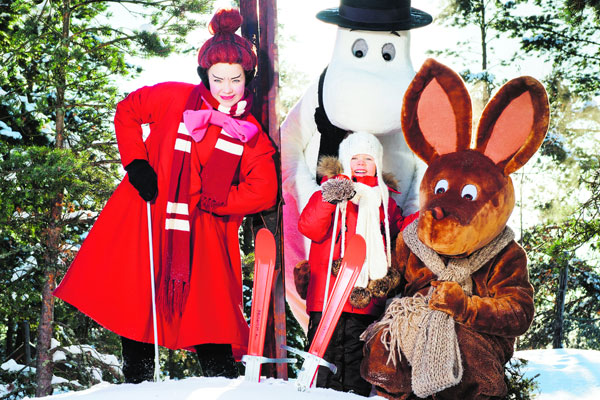 Finland is one of the most northernmost countries in the world and while winter can be marked by snowy weather, long nights and cold days, the Finns know how to make the most of it.
From snow-sure Lapland to cosmopolitan Helsinki, there's a calendar jam-packed with fun and quirky events across the Nordic country that will keep the whole family warm and amused. Here are some of the events to look forward to during the winter months in Finland.
'Art Meets Ice 2014' – International Ice Sculpting Festival, Helsinki Zoo – 7th-9th, 14th-16th February 2014
Helsinki Zoo hosts 30 of the world's top ice sculptors at its international ice sculpting festival, which will have been running for a decade in 2014. In honour of Helsinki Zoo's 125th anniversary, this year's theme is a 'Celebration of Animals' and will involve over 30,000 kilos of ice turned into art. The best time to see the sculptures is when the sun has set and the ice glistens under the evening lights. On event weekends, Helsinki Zoo is open until 7pm. Take bus 16 from Helsinki central railway station square, bus platform 8. Zoo entrance is 12€ for adults and 6€ for children aged four-17 years.
Moomin Winter Magic, Naantali, southwest Finland, 15th – 23rd February 2014
Although it closes for the winter season, Moominworld opens for one week during the half-term break and with Finland this year celebrating the centenary of Moomin's creator, Tove Janssen, the annual Moomin Winter Magic will be particularly special.  Winter Magic sees the Moomin family break their winter slumber to host a daily programme of winter fun that includes sledding with Little My, Alice and Moomintroll's family ski session and a snowshoe trek with The Hemulen.  The park is open from 10am to 4pm. Tickets are 18€ (children under two years are free).  Moomin World is in Naantali, 180km from Helsinki and connected by a regular bus service. www.muumimaailma.fi/en
'Jäälinna' Ice Castle Festival, the Lakeland region, 13th February – 5th March 2014
Finland's ice castle festival, known as 'Jäälinna', consists of two ice sculpting competitions in the towns of Heinola and Savonlinna in Finland's Lakeland region, as well as two events in Lapland. International ice sculptors from as far away as Mongolia and Singapore have been invited to compete in this year's festival and, weather permitting, the ice sculptures will be on display in both towns for the two weeks following the competitions. The festival kicks off with the competition at Heinola's Strandpark with the theme Going Forward and then moves to the courtyard of Olavinlinna Castle in Savonlinna, where the sculptures' design will revolve around the town's 375th birthday. Entrance to Heinola Strandpark is free; entrance to Olavinlinna Castle courtyard is free on 17th and 18th February and 7€ for adults, 3€ for children aged five-15 years thereafter. Savonlinna is a short flight from Helsinki, or a five hour train ride. http://www.jaalinna.fi/english/