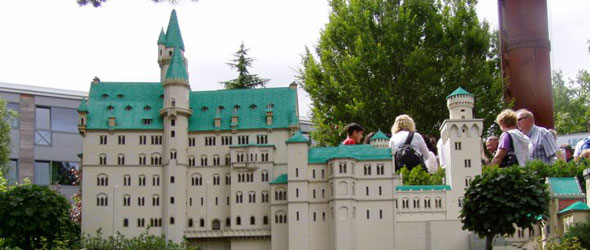 A visit to Denmark's second biggest attraction should be well planned beforehand and make sure your credit card is topped up because it is not cheap, they even charge for parking which is free at all the other theme parks. Also make sure that you don't go during school holidays if you can avoid it.
First you need to decide the purpose of your visit, is it to view the amazing miniature displays or is it to go on the rides. We didn't and ended up doing lots of walking. The lego buildings are amazing and to us were definitely the highlight. Most of the rides are themed but that is just window dressing. A roller coaster is still a roller coaster even if it looks like a jeep made out of Lego bricks.
I suggest that if possible you go twice if you want to do the rides as well as see the displays as there are queues for everything. Sometimes we waited for 30-40 mins for a 1 min ride. Also be warned that the food is slightly more expensive than other tourist attractions. We didn't eat there so I cannot comment on the quality. The Lego shop even though the biggest in the world, and it is impressive, is not cheap !!! Even with the discounts they give I think toy shops and supermarkets are cheaper. We didn't investigate any of the other shops there.
Out and About Legoland by Jan Petersen