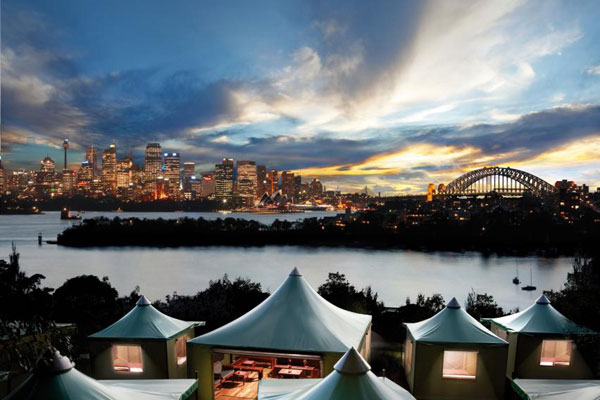 Sydney's latest and most compelling nature-based experience Zoo2Q has launched, giving the city its first luxury camping and hiking experience.
Zoo2Q is an extraordinary three day, two night guided journey through Sydney Harbour National Park, which takes in some of the most incredible natural and cultural wonders of Sydney.
Starting at Circular Quay with a short trip across the harbour to Taronga Zoo,  day one ofZoo2Q features unique Australian wildlife experiences at Taronga Zoo, sighting of ancient Aboriginal rock art, and overnight accommodation at the world famous Roar & Snore site,in which boasts luxury safari tents with spectacular views of the harbour to the Opera House and Harbour Bridge.
Day two includes a 15 kilometre guided walk through the extraordinary Sydney Harbour National Park with unsurpassed vistas and bushland settings to the 4½-star Q Station at Manly, , and  ends with dinner at the award winning Boilerhouse Harbourside Bar & Restaurant.
Zoo2Q will officially commence in June with departures on the second and fourth Sunday of the month and can be booked at www.zoo2q.com.au
Launching the new product, Max Player, owner of the award winning hotel – Q Station Sydney Harbour National Park, Manly, said Zoo2Q was the result of collaboration between some of Sydney's most passionate and experienced tourism operators.
"Zoo2Q is a proud joint venture between Q Station, Sydney Harbour Eco Hopper, Taronga Zoo and Sydney Coast Walks. Each of these organisations brings a wealth of knowledge and understanding to make this product the must-do nature experience Sydney has been waiting for."
Richard Ford, owner of Sydney Harbour Eco Hopper, said that the collaboration allowed each partner to focus on delivering their part of the tour while ensuring guests get a seamless experience from start to finish.
"By bringing together our range of expertise, Zoo2Q guests are getting the best of all elements of the tour – they can relax knowing that each part of the experience has been designed to fit into an overall itinerary that is truly remarkable."
In a recent trial of the new product, Chris Buykx, Chairman of Great Walks of Australia said,
"The amazing thing about Sydney is that you have some of the world's most spectacular walking trails on our doorstep, in Sydney Harbour National Park. The Zoo2Q walk is simply extraordinary in that it links some of Sydney's finest experiences together with our most stunning walks.
Every moment is another "wow" as exclusive behind the scenes experiences lead on to amazing "locals only" views and exhilarating adventures on the Harbour."