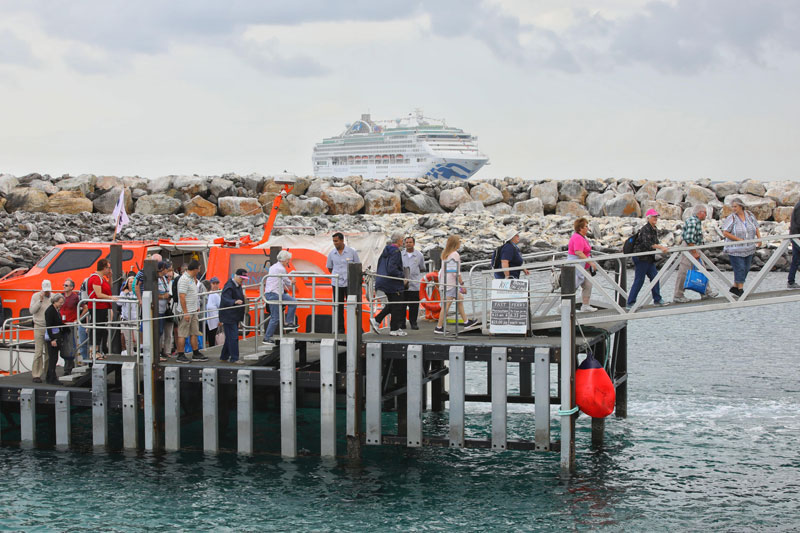 Princess Cruises' 2000-guest Sun Princess yesterday became the first cruise ship to return to Kangaroo Island, South Australia, one of the areas most severely impacted by the recent bushfire disaster. Over 40 British guests were onboard.
Princess Cruises' Ship Is First to Return to Australian Island
Princess Cruises' guests took advantage of a range of tours by local operators while others visited market stalls established by residents on the nearby Penneshaw Oval.
An earlier cruise to Kangaroo Island had been diverted to Port Lincoln at the height of the bushfire emergency.
Sun Princess is currently on a 13-night cruise from its current home port of Fremantle.
A number of guests have made donations to bushfire relief, with Princess Cruises itself also directing revenue it would normally receive from the day's shore excursions to the appeal. Princess Cruises is part of Carnival Australia, which has pledged over £1m to various bushfire relief efforts in Australia.
Sun Princess' captain, Diego Perra, said: "Our guests are aware this isn't a normal visit to Kangaroo Island and that their presence helps show respect and solidarity to the local community. We have encouraged our guests to support the tourism operators who have worked so hard to ensure there is a wide selection of experiences from which to choose.
"All of us on Sun Princess are so proud to know that we are helping send a message that Kangaroo Island's recovery has begun."
South Australia premier, Steven Marshall, said: "Having the Sun Princess dock, with 2000 passengers, is going to inject a substantial economic benefit to the community and also send a strong signal that we are on the road to recovery."